Your own Lucknow based company giving special offer for Lucknowties. Spend more healthy quality time in 'awdhi andaz' at our most exotic rustic resorts in locations such as Himalayas of Uttrakhand, Ooty Tea Gardens of Tamil Nadu, on Puri sea shores in Bhubneshwar and silent hill side lake of Lavasa in Maharashtra, bringing you closer to nature at an affordable price first time only for people of Lucknow.
Each year we are adding one Resort property in a beautiful tourist location PAN India!
We are offering special discounted price with our guaranteed stay Membership plan, details of which are as follows:
Particulars:
1. One has to purchase J-Units to avail lodging at any of our resorts.
2. The more numbers of J-Units you have the more numbers of nights you can stay at any of our resort.
3. Minimum six units have to be purchased to start a membership.
4. Minimum of 2 units will be required for a 1 night stay.
5. If a member refers any one for new membership, then he will be rewarded with 2 units on his membership plan.
6. On purchase of membership one will be entitled to avail stay at any of our resorts in India.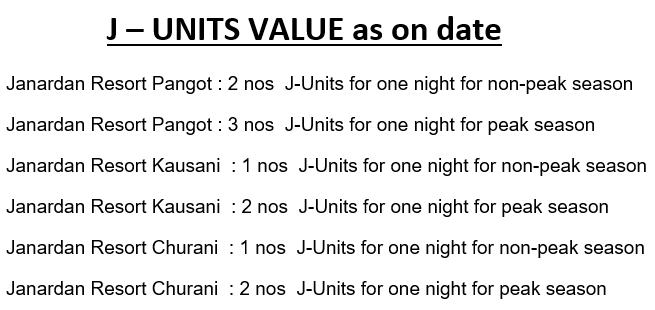 UNIT PRICE as on Today : Rs 999/- .
Annual Maintenance Charges : There will be an Annual Maintenance charge of Rs
99/- per unit which has to be paid regularly on the anniversary of membership.
Terms and Conditions
1- A membership means number of J-Units purchased.
2- Minimum of 6 J-Units have to be purchased to start a membership.
3- Minimum of 2 J-Units will be required to stay for 1 night.
4- Membership cannot be transferred or sold unless a member is having minimum of 12 J-Units. Only 50% of J-Units can be sold or transferred.
5- Membership offers stay to 2 Adults (Above age 12) and 2 Child (Below age 12).
6- All bookings against membership should be booked 15 days prior to check-in.
7- Members have to pay Annual Maintenance charges once in a year.
8- In case of no show at any of the property the same numbers of J-Units will be deducted from total unit.
9- If a member introduces any one for new membership, then he will be rewarded with additional 2 J- Units in his membership plan.
10- If a member required fooding at any property, he has to inform at the time of booking and will be charged accordingly at the time of check-out.
11- All meal plans can be changed as per season.
12- Every member has to carry his unique ID (Membership Number) and a valid photo ID proof at the time of check-in.
13- All the changes in policies and terms will be informed to all members time to time.
14- Company does not take any liability and arrangements apart from room stay.
15- In Any unwanted circumstances management's decision, will be last and should be respected by all members.
16- Management is liable to deliver its best to all members and will do necessary changes if required.
17- The jurisdiction of the J- units will be at Lucknow Court of law.
---
For more offers and details or any queries about this offer call our representative Atul (7678810007) or Abhay (8808133777), you can also SMS us on these number, do remember to include you name and query in the message.
You can also email us at sales@janardanresort.in, contact@janardanresort.in or marketing@janardanresort.in
& be friends with "Janardan resorts, pangot" on Facebook, and follow us on @JR_Nainital on Twitter.
Happy Holidays!
Janardan Resorts,
Pangot,
Nainital